Tripawds is a user-supported community. Thank you for your support!
Day 22 post op, these stitches/staples have been in for too long Ruby says!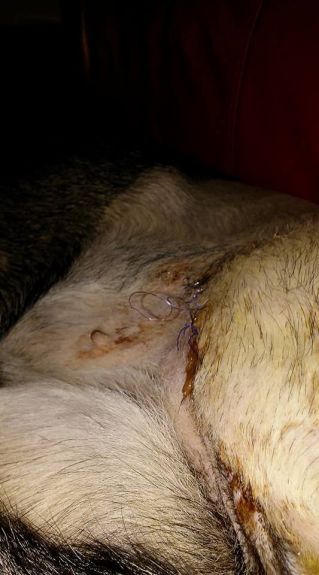 She did this a few days ago, but at times keeps trying to do more little by little.  You can see the slimy substance on the incision line of what is left of seepage.  She isn't dripping anymore, but still shows fluid sometimes.  She can still get at her sutures even with the cone on.  She doesn't do it all the time, but at times.  I have read where you can put boxer shorts on them to help cover it.  would that be better than a tshirt?  Not sure what to do and I have to work in a couple of hours through the night.  I do not think I have any boxer shorts here.  For the most part she does good about leaving them alone and I keep the cone on her pretty much all day/night.  I know stitches bother because I just had mine removed from my hand after nine days of being in and I couldn't stand them either.  Poor Ruby.  She just wants to be normal again, for real.